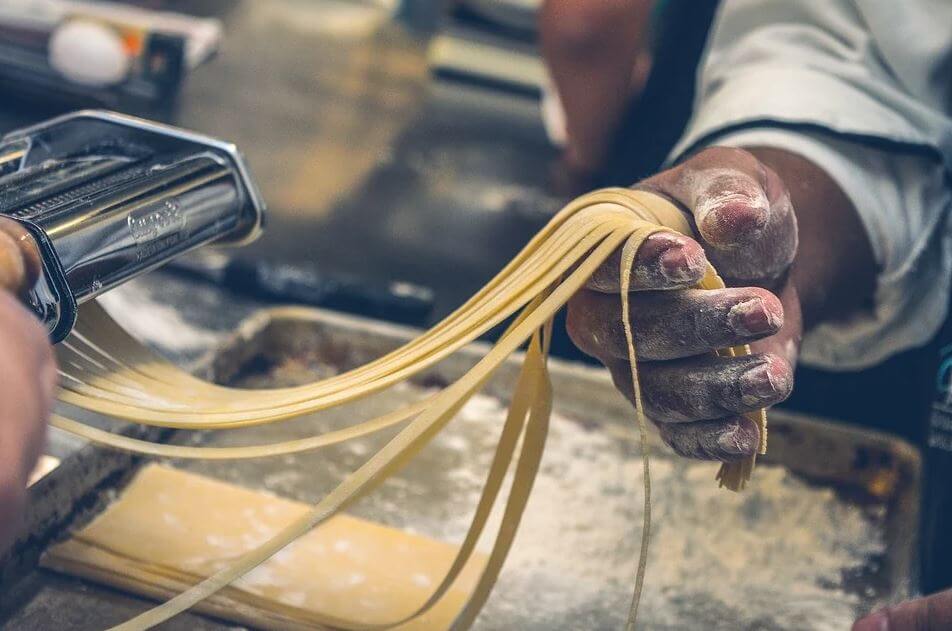 Pasta recipes: which are the most loved in Italy? Here are the best first courses
If you try to search on the net and write "pasta recipes" you will only be spoiled for choice among the suggestions of Italian chefs and food bloggers. This simple food represents Italian people in the world and is essential for most of them. Pasta is the symbol of Made in Italy gastronomy and along the peninsula, chefs, cooks, and kitchen lovers have created hundreds of varieties of this food over the centuries. We're talking about a dish that has ancient origins: it was already known by the Greeks and was widespread thanks to the Arabs and the Chinese.
One pasta portion out of four in the world is produced in Italy but its success is universal, in fact, 14.3 million tons of pasta are produced in the world. Tortellini and bolognese spaghetti are the pasta "versions" best known abroad.
Each season has its own pasta recipes
The Mediterranean diet, which has been included among the intangible heritage of Unesco, also places pasta on top of the food pyramid. It is therefore not surprising that there's a pasta recipe for any season of the year that varies primarily based on the choice of dry or fresh pasta in the preparation. There are also many seasonings such as pesto, meat or fish-based seasonings, sauces made with vegetables, cheeses, mushrooms or truffles. These, combined with the different pasta shapes, represent the typical dishes of the various Italian regions.
Pasta is not a kind food consumed only during the winter. On the contrary, Italian people use to eat it a lot especially during summer. In the cold months, people prefer tortellini, ravioli, and pasta stuffed with broth or more structured seasonings, while in the summer, they use to prepare pasta with seafood and fish and cold pasta.
Quick and easy pasta recipes to make
The chefs like to experiment with many cooking techniques, from the pressure cooker to the wok, from the cooking pot to the one-pan pasta, shaken. If in restaurants the chefs indulge themselves in creating original first courses and combinations of refined flavors, most families also prepare pasta as daily food. Since it's a very versatile food, it is possible to prepare quick and easy recipes even at home when you are arranging a lunch or dinner on short notice.
A quick and easy first course to prepare is pasta with courgettes and some basil leaves.
Pasta recipe with courgettes
Here is the recipe to prepare a really tasty typical first course of the Italian tradition:
bring the water to a boil and add salt;
pour and heat over low heat 20g of extra virgin olive oil in a pan with a clove of garlic;
wash and dry 650g of courgettes;
peel them and grate the vegetables with a big hole grater;
pour the courgettes into the pan and add salt and pepper;
cook for 5-6 minutes, stirring;
remove the garlic;
boil 320g of pasta (preferably farfalle shape) in boiling water and drain when "al dente" (a pair of minutes before the end of the cooking);
pour the pasta into the pan together with a little cooking water;
mix for a few moments;
add chopped basil.
Recipes with pasta for appetizers and main courses
The recipes with pasta known in Italy are not only those concerning the first course. With this food, in fact, many chefs also love to create appetizers and main courses and someone dares to weigh desserts. Some examples are:
eggplants stuffed with pasta,
the egg pasta roll with ham, eggplant and scamorza cheese filling,
cocoa tagliatelle, hazelnuts, and raspberries.
The pasta shapes to use for each recipe
Apparently, Bologna is the Italian town where the highest number of pasta orders is recorded while in second and third place there are Rome and Milan. Each region, however, has its own specialty represented bydifferent pairings of formats and seasonings, also according to theingredients'seasonality. There are over 300 pasta shapes. The main types of fresh pasta that are prepared with soft wheat flour and eggs or water are tajarin, tagliatelle, fettuccine, pappardelle or maltagliati, orecchiette, strascinate, cicatelli or troccoli.
Dried pasta is produced in various industrial formats and is distinguished between long, such as spaghetti, vermicelli, bucatini, and linguine or short, smooth, or striped, such as pennette, shells, rigatoni, pipes, half sleeves, sedanini.
Pasta recipes at the restaurant: which are the 10 most popular first courses for chefs?
Although many chefs love to rework classic recipes, tradition always seems to be popular in restaurants too. After all, even the New York Magazine in 2016 proclaimed it cacio e pepe, one of the oldest pasta recipes, "coolest dish of the year". In the ranking of the queen of Italian cuisine there are:
lasagna, the most ordered pasta dish all over Italy;
carbonara also called "cacio e ova", that is also one of the most requested and revisited;
tagliatelle with meat sauce, the Emilian recipe par excellence;
tortellini in broth;
penne all'arrabbiata, simple and timeless dish of the classic culinary tradition;
Sorrento-style gnocchi, prepared in the typical terracotta pan;
the risotto with scampi cream;
spaghetti with seafood;
spaghetti with clams;
the wheatgrass with sausage.
Candy Valentino