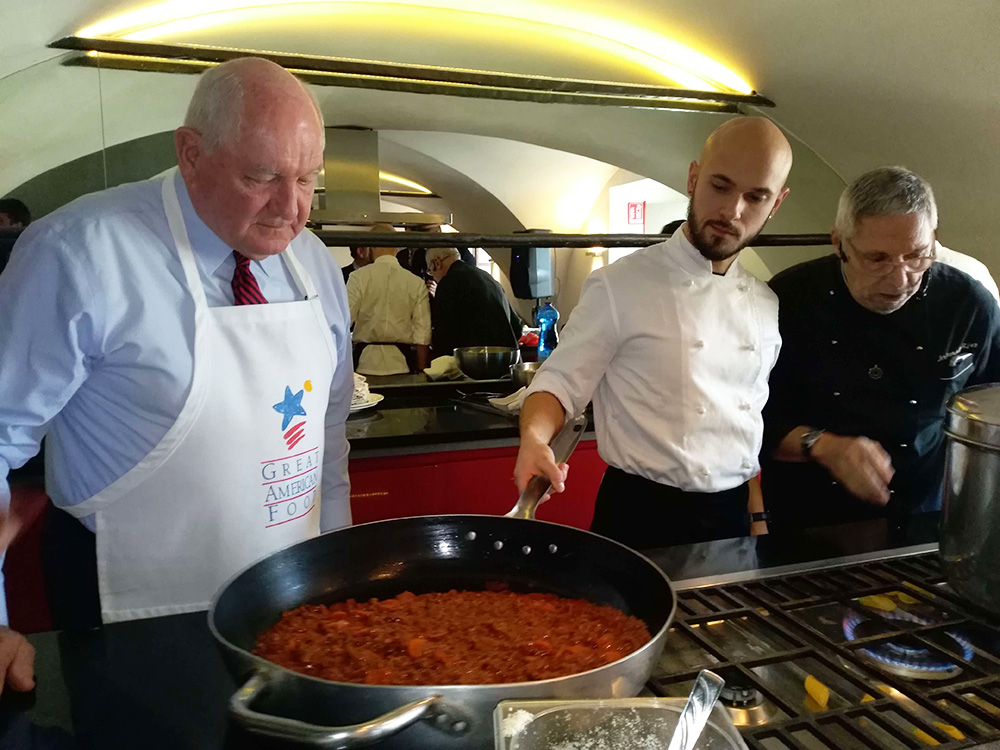 Find out Italian pasta with American durum wheat: there's a bit of America in Made in Italy
On January 30, 2020, the Office of Agricultural Affairs at the American Embassy in Rome organized a fun Pasta Cooking Presentation at the Tiber Island Studio. Italian Chef Antonello Riva together with the American Minister of Agriculture Sonny Perdue, visiting Rome, prepared for 3 typical recipes of Italian first courses, using pasta brands that contain American durum wheat.
As many of you already know, there are numerous varieties of pasta produced with different types of wheat and, as Chef Riva explained, durum wheat grown in the United States has some particular characteristics that go perfectly with the production of Italian pasta.
Types of pasta with American durum wheat
Many types of Italian pasta contain American durum wheat: this is one of the products most exported from the United States of America to Italy, also because Italian wheat production does not cover the needs of the Italian population.
Until the 1970s, significantly lower quality wheat with low protein content was grown in Arizona, used only to feed livestock. At Carleton, in 1974 looked for a variety of wheat suitable for cultivation in the desert and created WestBred 881. The first attempt to distribute the flour produced with this "experimental" wheat was made in the Italian pasta market and proved to be a success. The Desert Durum must be cultivated with desert irrigation due to the lack of rainfall. Precisely the absence of rain allows cereal growers to dose the water and always obtain optimal results.
The nutritional properties of American durum wheat
The American Desert Durum wheat, has many nutritional properties, due to the soil and climatic conditions in which it grows. It is particularly rich in proteins and gluten and flour is extracted from its particular kernels. This gives Italian pasta texture and color. The four major U.S. States of durum wheat are:
North Dakota,
Montana,
Arizona,
California.
In 2018, the United States exported $ 140 million of durum wheat to Italy. At the same time, the United States is one of the best international markets for Italian pasta.
Pasta Cooking with Sonny Perdue: here is which pasta with American wheat we tasted
During the Pasta Cooking, we could taste three well-known Italian pasta brands produced with American durum wheat in different proportions, to grasp their different organoleptic properties. Chef Antonello Riva, helped by the American Secretary in an exceptional Sous-Chef role, cooked for the participants on the spot:
pasta gricia with Amatriciano bacon and courgettes;
cacio e pepe pasta, the chef's workhorse;
rigatoni with Bolognese ragout, prepared with Black Angus worked with a knife. This American beef from Creekstone Farms is the first choice and controlled by the US Department of Agriculture (USDA Prime and USDA Choice).
American beef is, among other things, known worldwide for its flavor, texture, and marbling, which consists of the thin veins of fat.
On this occasion, some wines produced in New York State, in the Finger Lakes region, were also presented.
Watch the video of the event on my YouTube channel!
Candy Valentino