The best jazz clubs in Rome: find out a new whiskey bar with excellent live music
By surfing the net you'll find many "ultimate guides" to the best jazz clubs in Rome. There are some traditional places where people from town and from abroad go to listen to good live music in the Eternal City. But now, whiskey lovers who are in the capital can enjoy a new special refuge among Rome jazz bars. A renovated boat on the Tiber opened some months ago to house one of the best whiskey bars in Rome called Dram. Omar Ghoneim, former owner and founder of the Gregory's Jazz Club, wanted to bet on this location characterized by the breathtaking view, to turn it into a restaurant with excellent live music. And, given Ghoneim's passion for whiskeys, of which he can be considered a real collector, he could only focus in particular on the beverage offer.
Dram: here is the menu of one of the best jazz clubs and bars in Rome
Dram's food offer is varied and of high quality. The menu ranges from traditional Mediterranean recipes with a modern twist and a touch of Asia with sushi and sashimi. On Sundays, from 11 am onwards it's also possible to go there for a brunch. Some examples of dishes proposed by the chef are:
salmon tartare with avocado, almonds, and flying fish eggs,
eggplant parmigiana,
pasta alla gricia,
soft shell crab tempura,
cheese pie with ginger and lemon, covered with meringue and crunchy almonds,
crunchy hazelnut,
chocolate-mousse.
The selection of fine whiskeys, however, includes 160 labels. The whiskey-based cocktail menu is not least, perfect to pair with sushi.
The whiskey-based cocktails offered at the live club Dram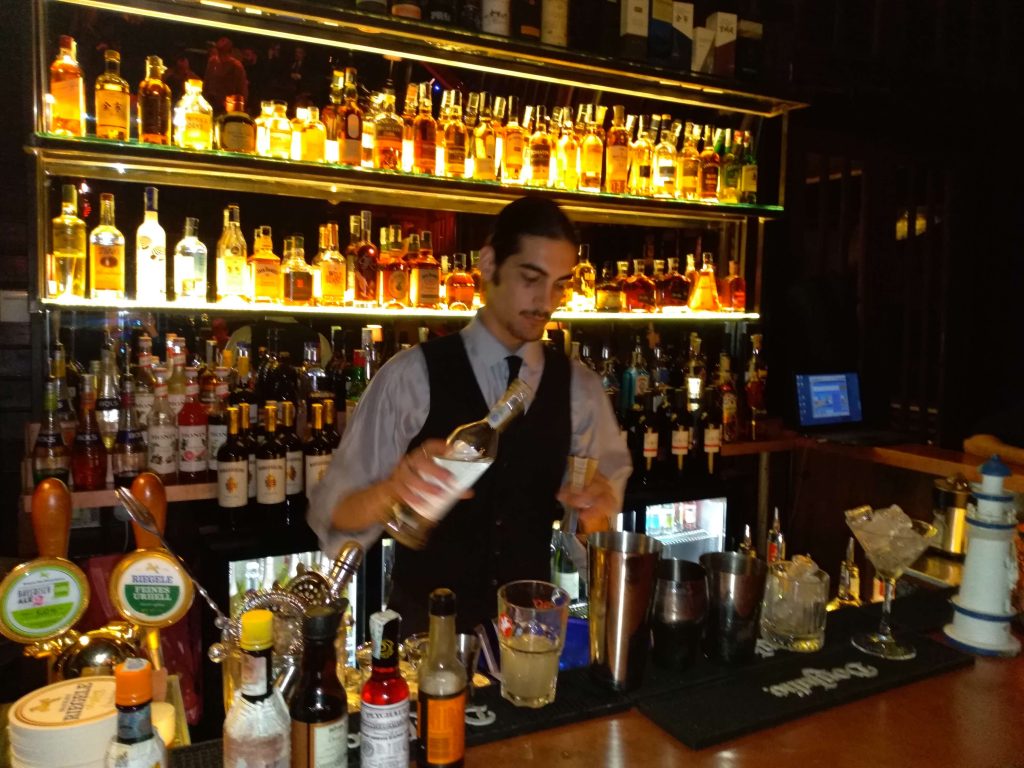 The barmen who work at Dram will express themselves for customers in the creation of a great variety of cocktails, from the most classic ones like Spritz, Sours, Mojito's, Old Fashioned, Martinis, Mules Margaritas, Daiquiris to other experimental, such as:
Gentleman Smoked Sour (Smokey Whiskey, Bourbon, Lemon Juice, Grapefruit Syrup, Egg White);
Viejo Estilo (Smokey Whiskey, Bourbon, Lemon Juice, Grapefruit Syrup, Egg White);
Ratpack Manhattan (Rye Whiskey, Dry Vermouth, Red Vermouth, Grand Marnier);
Mandarin Manhattan (Tangerine Extract, Rye Whiskey, Home-made Bitter),
Boulevardier Sour (Bourbon, Campari, Red Vermouth, Fresh Orange Juice, Lemon Juice, Egg White);
Princess Cocktail (Bourbon, Ginger Syrup, Fresh Orange Juice, Lemon Juice);
Miss Meet Whiskey (Bourbon, Pomegranate Syrup, Cream).
One of the best jazz clubs in Rome, on a boat on the Tiber
Inside this elegant boat located under the Lungotevere Arnaldo da Brescia, furnished with Chesterfield sofas and with soft lights, jazz concerts complete the atmosphere. Every weekend Italian and international performers enrich the night with live music.
During the spring and summer season, you can also enjoy the terrace. The fundamental elements for an excellent welcome are all there and it's worth discovering this quality alternative to the many trendy clubs in Rome.
Candy Valentino