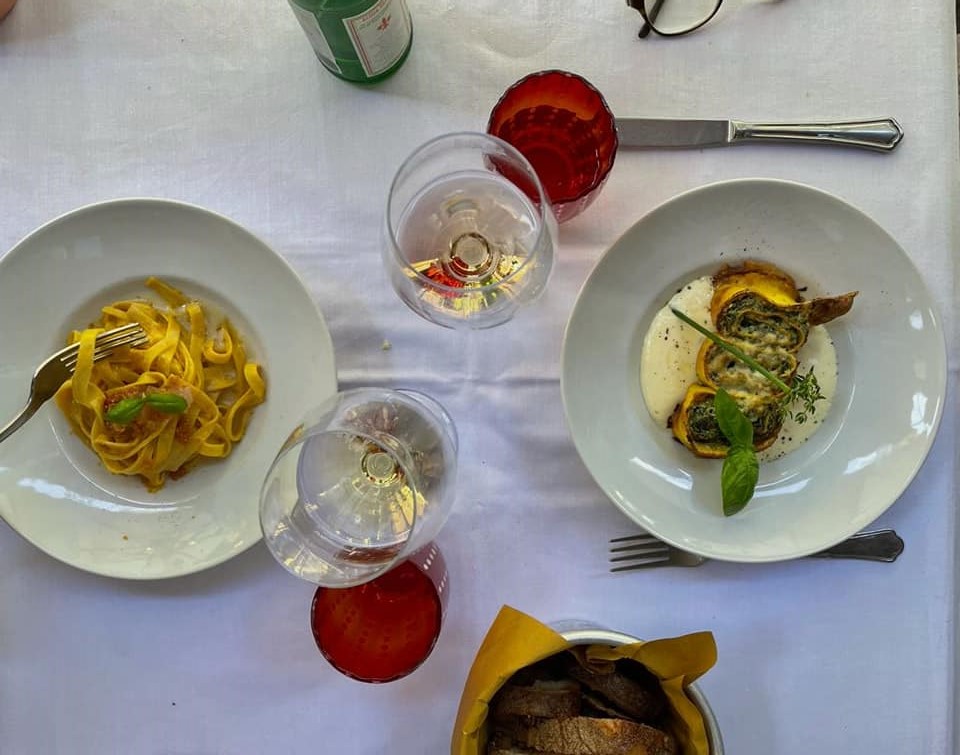 Roma restaurant, here is Baccano bistrot
Baccano Roma restaurant has a new direction since the end of April 2021. Valerio Capriotti came in a difficult moment, after a long period of closure due to Covid-19. However, you can better see the ability to manage difficulties and the professionalism of those who know how to do catering just right in these moments. The particular location of this restaurant in the heart of Rome, in the picturesque Via Delle Muratte, probably didn't facilitate the setting up of a welcoming terrace. There isn't a lot of outdoor space available, while the hall inside the late 19th-century building is spacious and furnished with a taste that skillfully mixes modernity and retrò elements. Despite this, even in arranging tables, chairs, plants, tents, and romantic hot-air balloon decorations, the managers of Baccano have been able to grant a touch of personality.
Italian excellence at Baccano Roma restaurant
For some time I wanted to try this pretty bistro located next to the Quirino Theater and a stone's throw from the Trevi Fountain. I've never trusted much of the Rome restaurants located in such "touristic" areas of the town, where the competition is fierce. Just around the corner, for example, there's a huge McDonald's store as well as many food-places that offer various types of catering. Several acquaintances, however, had spoken well of Baccano's gastronomic offerand I had read numerous enthusiastic reviews on the web.
Roma restaurant with Mediterranean menu
If the direction of Valerio Capriotti in such a particular moment deserved a mention and the location has its weight as in all the Rome restaurants, the focus now can only be on food. The premise I want to make is that Baccano's offer is extremely varied. Many types of oysters and raw fish satisfy the most refined and demanding customers. But you can range from the famous Italian carbonara to refined and original recipes such as egg fettuccine with butter, anchovies, bottarga, and shrimp. There's no shortage of apparently less demanding dishes such as Pastrami, hamburger, or Chicken Club Sandwich.
Fresh, refined, and precious raw materials: a riot of flavor
The Baccano menu is very different but not for this dispersive or of poor quality. The common denominator is the use of excellent ingredients. If the cost of the dishes offered is a little high, when you taste appetizers, first, and second courses, the palate immediately transmits the reason for this expense to your brain. The use of superior quality raw materials gives its results in terms of taste. You can count on:
fresh homemade pasta,
Piedmont's Fassona,
buffalo mozzarella from Campania,
Andria's burratina,
organic eggs,
Pecorino cheese aged no less than eighteen months,
precious bacon.
Chef Marco Milani brings all his rich knowledge of the catering world to the kitchens of this restaurant, supported by a team of professionals in the sector.
What to taste at the Roma restaurant Baccano
I tried Baccano shortly after the post-Covid 2021 spring reopening. The friend who accompanied me and I were well received by the courteous, smiling, and discreet staff. Together with the water and wine, they brought us a basket of very fresh bread and a saucer with tastings of pizzaand extra virgin olive oil. We enjoyed 4 well-served dishes that left us fully satisfied, I can recommend them!
To start, we tasted fried anchovies with panko breadcrumbs. A light, delicate, and tasty frying, which left no trace of grease, perfect for fresh and quality bluefish;
as first courses, we chose the fettuccine with butter, anchovies, mullet bottarga, and prawns – a real pleasure for the senses! – and the borage cannoli with Parmesan zabaglione, beautiful to see!;
second, we chose the meatballs alla cacciatora with mushroom cream. The meat was delicious and very tender, I could cut it with a fork.
What to drink at Baccano Rome restaurant and cocktail bar
The drink list features a vast assortment of cocktails and the wine list ranges from highly respected champagne, white and red wines produced both in Italy and abroad. For those who prefer glass, there is a specific list. We have chosen two wineries that work with organic. In this case, my friend guessed it better than myself: her rosé, a L'Aura Noventa 2018, was much more pleasant than my white, a Verdicchio La Staffa 2017. I'll do it better next time!
Candy Valentino